BIG DAY® Motivation Collection
Live today with purpose. Allow us to assist with encouragement.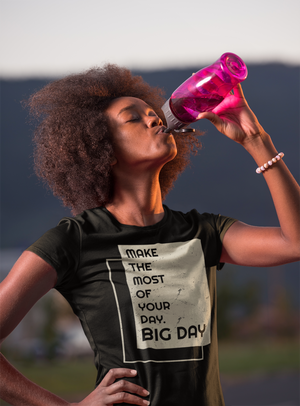 Motivational T-shirts, Hoodies, Tank Tops, and Long Sleeves For Your BIG DAY
Our Motivational Collection for your BIG DAY is our slightly more serious side. Before we can celebrate, there's work to be done. What is it that fuels your energy tank and inspires you to get out of bed every morning? How do you make the most of your day and turn it into a BIG DAY?
Make Today a BIG DAY
The bar has been set. The goals have been etched. Now is the time to put your head down and focus on what matters. Each day brings with it the potential for you to take a step toward the right direction and pursue your end game. As a wise man once said, "people often say that motivation doesn't last. Well, neither does bathing. That's why we recommend it daily." With that said, how will you take action today toward your goal? What are you going to do to Make Today a BIG DAY?

Be sure to check out other ways to Celebrate and Award their BIG DAY!