Shop Our Thanksgiving Collection
Collections
Find the perfect gift for your BIG DAY
Reviews From our customers
Super soft shirt and it's perfect for the BIG DAY I had!
Sarah S.
I love my BIG DAY hoodie! So warm and comfy. It's a great conversation starter about having a BIG DAY!
Jeffrey W.
I bought the tees as gifts for my family and they were a hit!
Jessica C.
My bridemaids loved their tank tops! We had a blast celebrating my BIG DAY.
Susan B.
I wear my BIG DAY tee every time I hit the trails and reach the top of a mountain!
Mark D.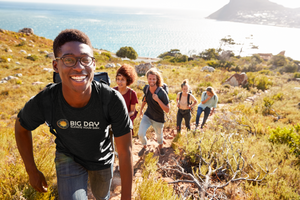 ELEVATE YOUR DAY TO A BIG DAY
Looking to take your average day to the next level? Make it a BIG DAY! Find joy and passion in the things you do. Often we struggle to be intentional with our actions but it's what we give attention to that chooses how we live our lives. Make the effort to make today count and try to view today as a gift. Having a BIG DAY is open for interpretation - any one of any age and background can have BIG DAY through their own intentions. So take time, give yourself a direction, and make your day a BIG DAY!
Shop Now