Friends Collection
Celebrate and recognize your best friend's, boyfriend's, or girlfriend's BIG DAY!
Celebrate your Best Friend's BIG DAY
Your best friend is often the person who knows you inside and out. And you know them at the same level. You share the most intimate details with each other. You have way too much fun and laughter over the simplest things. You could go months or years without speaking and then pick up right where you left off. When an important event or milestone takes place in each other's lives, you both make sure you are there to celebrate. Our BIG DAY Friends Collection offers t-shirts, hoodies, long sleeves, tank tops, and gifts for you and your best friend to express your excitement and joy for one another's successes.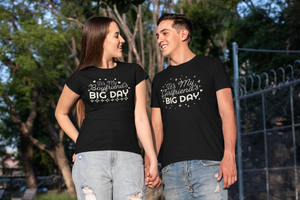 Celebrate that special someone's big day
When you're coupled up with that special someone, you want to make sure they are seen and supported during the important moments in their life. You want to be there for when they land and begin the new job opportunity. You want to gather all of their friends for their surprise birthday party. You get just as excited for their successes as they do. Whether it's your partner, boyfriend, or girlfriend, celebrate their BIG DAYs with all of your heart and joy.